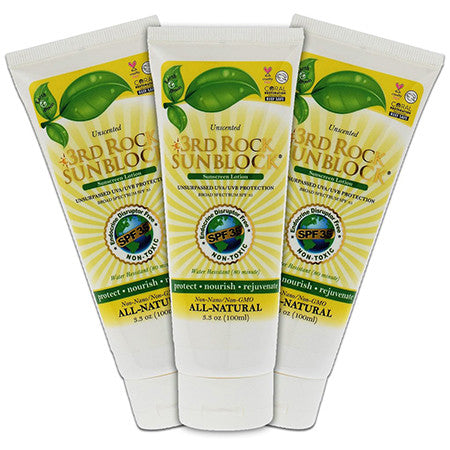 3rd Rock SunBlock SPF 35 Natural Organic Zinc Sunscreen
Sunscreens fit into one of two categories – mineral and chemical with the most common ones on the US market being in the latter. These products typically include a combination of two to six active ingredients (oxybenzone, avobenzone, octisalate, octocrylene, homosalate and octinoxate) known to penetrate the skin and cause allergic reactions, with many of them being potentially toxic to the reproductive system.
To the contrary, mineral sunscreens are made with zinc oxide or titanium dioxide and generally rate better than their chemical counterparts in terms of safety. According to the Environmental Working Group, mineral sunscreens are stable in sunlight, protect from both types of ultraviolet radiation (UVA and UVB) and typically do not contain any potentially harmful additives.
I think I know a thing or two about sunscreen given that I have lived in Phoenix for over ten years, a place where the sun shines an average of 299 days out of the year. I am constantly testing safe and effective products with SPF to slather all over myself and my kids, and out of all the ones I have tried(and trust me – there were many!) I can honestly say that I found a new favorite with the 3rd Rock Sun Block.
Over the last two weeks, I have been applying the "aromatherapeutic" variety (which has a faint but pleasant medicinal smell; also available in "unscented") every morning on my arms and decotellage before taking on the day. I am happy to report that this broad spectrum UVA/UVB protection sunscreen lotion is lightweight and absorbs quickly without leaving a heavy white film on the skin. It is neither greasy nor sticky and a little goes a long way. Reef safe and water resistant for up to 80 minutes, I have also worn it to two pool parties and after a couple of hours of being in and out of the water, my skin was well protected without any signs of redness or irritation from the sun or the product.
Get 3rd Rock SunBlock now